Browsing This
EDGE dev webinar hints during BlackBerry OS of a destiny?
Posted in March 2nd, 2010
Published in Uncategorized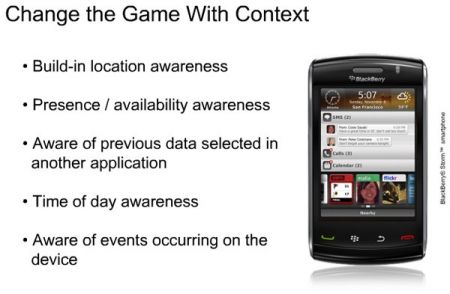 See which Storm-esque device there? We may have beheld which a home shade looks definitely zero similarto the knowledge you're used to — as well as that's because it's not. Shown off as part of a slide deck in RIM's "Super Apps" webinar for developers last week, a company's official reason is that this is a pristine, off-the-cuff mockup, not indicative of anything they're working on for destiny inclination or releases of BlackBerry OS. To be satisfactory, when you take a shot in context with the bullet points as well as the fact which this display was geared precisely at devs, we can suppose that they unequivocally were only regulating it to get folks' beautiful juices issuing — but it creates you wonder, doesn't it? There's enough active as well as location-aware content here to make even a heavily-widgeted Android home shade want badly, so severely, why not do this in 6.0, EDGE?