Browsing This
Video: Hands-On With a PlayStation Phone
Posted in February 15th, 2011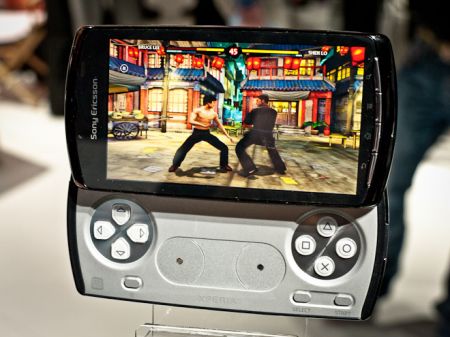 BARCELONA — Sony Ericsson's Xperia Play is a phone we have wanted ever given Sony's PSP was invented. It is, in any meaningful approach, the first official PSP phone, as well as we got to play with it at the Mobile World Congress. How does it do?
Pretty good. With the gamepad tucked out of the approach, the Play is a sincerely humdrum Android phone, using 2.3 Gingerbread upon a Snapdragon processor and versed with the 5MP camera. As a phone, it is ideally excellent.

But slide which desk pad out and things get fun, fast. You get a D-Pad, plus a four familiar PlayStation "shape" buttons, start and select and a home symbol that mimics the unchanging a single up by a shade. There have been additionally two touch-pads, and a pair of shoulder buttons around back, behind the screen.
To drive a graphics, the Play has the own GPU, a 1GHz Adreno 205. This allows a phone to pull a polygons around as well as monitor them at 60fps. Here you can see it in movement, along with me removing my ass kicked in a pre-installed Bruce Lee diversion:
In the palm, you dont think about immediately that it is the phone. The buttons have been fine, nonetheless if you were personification the Streetfighter-style diversion, those d-pad rolling special moves would be a small wily. The shoulder-buttons have been easy to reach, even for my large hands, as well as the shade hinge is solid enough which things don't wave around while personification.
Games will come from the Android Market Place, and there will be a separate PlayStation Store for shopping old PS1 games, which will run on a Play.
It's considerable, though I'm disturbed that it will be as well costly to be successful. Amazon.de lists it during €650, which converts to, $880. That's a lot of money, as well as even Sony Ericsson's promise of 50 launch titles might not be sufficient to confuse you. The launch date has yet to be announced, though could be as early as March.